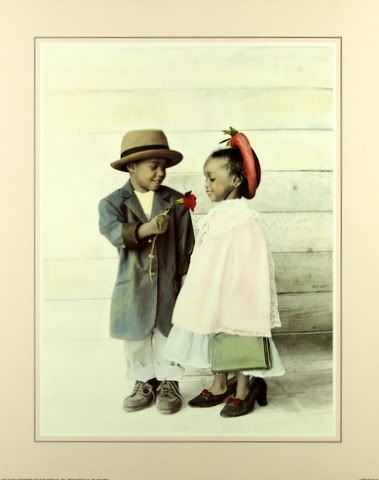 A boyfriend?!..
Yes, Ms. Lovely officially has a boyfriend. So much for keeping those options open eh? Grab the popcorn.
Remember I was telling yall about
Chocolate?
Well, we went out on a few more dates..spent a little more time together. First was Olive Garden because neither of us had been and I had a craving for lasagna.
Chile please
! I'm never going there again. First off our Sprite tasted like water'd down seltzer water,
Chocolate's
utensils were dirty, they gave him fried potatoes instead of mashed potatoes..Ugh just a hot mess! He took me to shoot some pool at a little chill spot.. Ms. Lovely grew up with a pool table in the basement so I know a lil shum'n shum'n. We had so much fun that night despite the fuckery at OG. Our next date was a little more low key. I had a craving for funnel cake so I took him to this little black owned ice cream shop (fucka Rita's) that makes them. It was so cute, the two of us with more white powder on our lips that Amy Crackhouse and Tyrone Biggums combined. Later I took him to meet some of my loud ass family members. My aunt walks in the house and recognizes him from the gym where she works out. My poor baby just put his head down in shame. The look on his face:
PRICELESS!
You see, my aunt is pretty much the flyest 40something you ever did see, so the young boys always try to get at her. We had a good laugh about it but she pulled me aside and told me that he was a good guy..*smile*
Last weekend we were watching t.v at his house and discussing what each of us were looking for. Both of us wanted relationships and we mutually agreed to find that relationship with eachother. And just like that I had a boyfriend. I changed my status' to
"In A Relationship"
but something was still nagging at me. At first I was thinking that things were moving too fast. Second, I felt as if I was gonna miss out on something..like my playette card was being revoked. I was doubting my decision yall. Especially after 30349394 phone calls from folk demanding to know when I had decided to make a personal decision about my love life that has absolutely nothing to do with them. Even before I changed my status' on facebook and myspace I decided to call one guy in particular because I knew he was really feeling me (even though I hadn't seen him in months and never did anything remotely sexual with him). He's a nice guy, a little immature; but the bottom line is that he just wasn't my type. I don't know about yall but if the sexual attraction isn't there..aint nathan poppin off. Also, I know what it is to have my heart crushed from a random status update *cough
sexy

jama
ican
sneeze
* so i decided to let him know beforehand....
So I call and tell him the news. Understandably, he was a little hurt. He said he would call me back after he took a shower..
Chile please
, I bet he cried in that shower..I felt sooo bad yall. I was hurt for him. And that only lasted until the next morning when I received a text message from him talm'bout:
"Yo Ms. Lovely got a b/f and told me she think of me as a good friend. She put me in the friend zone dog!"
So i'm lookin at that shit like "hunh?..wtf?"...5 minutes later he texted me again talm'bout..
"My bad, I didn't mean to send that 2 u..."
Chile please
!!! I didn't respond. That is the oldest trick in the book, not to mention..How old are we again? Like I said he is immature. I still feel a little bad. I pray that he can get over it..
Anyway, back to my decision..
I discussed it with my close cousin
FunnyGirl
and I came to the conclusion of "Fuck it, i'm gonna do what makes
me
happy. And
Chocolate
most definitely makes me happy. I'm living in the moment and taking things day by day. If it works out--
great
. If it doesn't--
at least we tried
. I refuse to keep my heart locked away surrounded by animosity because of what the last man..err..little ass boy did. I'm taking a big chance here but it's worth it. Shoot..thinking back to all the nights i've been
unhappy,
miserable
, and no doubt crying myself to sleep; where in the blue hell were these same folk who are now demanding answers about my changed status?!?Nowhere; that's where. 75% of them didn't give a damn enough to show interest or throw their hat in the ring. Now all of a sudden i'm taken, folk wanna be in a tremendous uproar.
Chile please
! The other 25% are concerned loved ones that want to make sure I don't get my heart broken again. I understand their concern and love for me and I definitely take their advice to heart. Yet and still I am my own woman.
I'm definitely waiting to make sexytimes with him. We kiss (a lot) and sometimes I get in the habit of sucking on his neck and whatnot. Just being a good ole' fashioned tease. Last night he got me back. We were watching the BET awards and he had me ready to committ 1st degree rape on his ass. Had me about to take his ass down like Ciara did Chris Brown. I think it's safe to say I found that sex drive I was looking for a few weeks ago LOL! We decided to wait. I told him I want it to be "special" and he agreed.
Chile Please
-
How did you get here..nobody's sposed to be here?
You know what? It doesn't matter because I want you to be near...